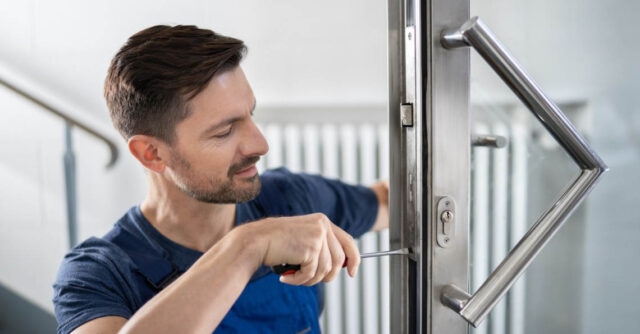 When choosing a locksmith, the number of choices you have can be overwhelming. There are national chains, franchises, and local companies to choose from. You want to make an educated choice when deciding who is best to help you. We recommend doing your research beforehand and making an educated choice. When deciding who best to help you, look for 8 things that only the best locksmiths do.
1. They Are Easy to Research
The first thing you want to look for is easy to research the company. You should find a website for the locksmith that has details about their services offered. The website should be clear and give the vital information you need when deciding on who to contact.
A one-page website with pictures of keys, a happy family, and a contact number is not enough to know if this locksmith will be able to help you or not. The website should include information on the different types of services available, what to do if you need help, and preferably reviews from their customers.
2. They Are Convenient
The next most important thing is that the locksmith is convenient for you. This means that the locksmith should work around your schedule and make everything as easy as possible. The best locksmiths are providing 24/7 locksmith services.
They should also be convenient in how the services are performed. A locksmith should be able to assist you quickly without you having to wait around for an appointment when there is an emergency or urgent issue. Also, the company should offer a mobile locksmith service where they can come to where you are and assist.
3. They Use Full-Time Licensed Locksmiths
Some locksmiths will attempt to cut costs by hiring contract labor or unlicensed locksmiths. This is never good because there is no way to guarantee a contractor is trained properly to handle issues that could arise. Also, a whole host of problems could occur if a locksmith who isn't licensed completes the work. Always make sure any locksmith you choose only hires full-time licensed professionals.
4. They Are Insured
As a matter of safety and security, this factor is essential. Just like in anything in life, mistakes can occur, but you should never shoulder the responsibility for them. A locksmith should be insured, so if anything goes awry, you can be secure in the knowledge that it will be dealt with by the locksmithing company.
5. They Provide All Locksmithing Services
A locksmith should be able to offer all the different locksmithing services. They should have professionals specializing in auto, commercial, and residential locksmith. If you rely on a locksmith who only handles one type of service, then you can be left in a lurch.
Imagine this situation, your car key gets locked in the car, and your purse gets stolen with your house key in it. A terrible situation, but now you not only need a way into your car, but you also need a new house key made. If you call a locksmith who only handles auto issues or only handles house issues, you will end up with only one urgent problem fixed. Save yourself the headache and only use a locksmith that offers all the services you could need.
6. They Only Use Branded Vehicles
This one is a very serious safety concern. If a mobile locksmith arrives in an unmarked vehicle, this should be very suspect. Mobile locksmiths should always have branded vehicles, and the locksmith should have identification to prove they are who they say they are. Your security is critical, and you don't want to risk it by letting the wrong person access your locks, so always make sure that the company you call uses branded vehicles.
7. They Have an A+ Rating with the BBB
The Better Business Bureau is a helpful resource when researching different locksmiths. They rate a business based on customer reviews and reports. A less than stellar rating can mean the company is not as honest and trustworthy as they claim. An A+ rating from the BBB means that the business is credible and offers superior service.
8. They Have Positive Reviews
Like many other services, you can find reviews for different locksmiths all over the internet. A great locksmith will have reviews available to read on their website, but don't solely rely on these. Look for other reviews on neutral sites like Yelp or Google. The best locksmith will have high rating reviews with many details.
Watch out for companies that have fake reviews. These will typically be perfect reviews with very little detail about the services rendered.
Bottom Line
When looking for a locksmith, it's important to do your research. Check out the company on Yelp or Google and read reviews from customers who have been served by them before hiring them. Ensure they are insured, use branded vehicles with identification, offer all services needed in case of emergencies so that there isn't any downtime waiting around for help when you need it most. And lastly but not least, make sure their ratings are positive and solidified by customer feedback!
About the Author
This article was written by Dustin Fernandez, the owner of ASAP Locksmith in Dallas. ASAP Locksmith is a family business that provides locksmith services to residential, commercial, and automotive customers. Dustin has over 20 years of experience in the locksmith industry and started his own company in 2006.
ASAP Locksmith
1201 Main Street Dallas, Texas 75202
469-208-0041
Also read about:
How to Get Agricultural Land in Switzerland
Dental Biomaterials of Dental Consumables Market With Impact of COVID 19 Top Companies Emerging Trends
Working From Home Tax What You Can and Can& 8217 t Claim